December 2, 2007 Newsletter
Dr Rosenberg appeared on Fox Business Channel on the "Money for Breakfast" show this morning (December 3, 2007)
He was invited to discuss the SmileReminder system that he has used for the past 2 years, as part of an interview with Jim Higgins, the CEO of the SmileReminder company.
If you are getting this Newsletter, you probably know that SmileReminder also sends you reminders of appointments by email, cell phone text messages or both. We also use it to send reminders to call and schedule your periodic exam and cleaning appointments when you are due for one. It also allows us to send patients surveys on their experience with their dental visit.
Click Here to view the 4 minute segment:
The Web Address is: http://tinyurl.com/24ckb4
(This is a shortened version of the long url that Fox Bussiness supplied to me.) or the full address is:
http://www.foxbusiness.com/video/index.html?playerId=videolandingpage&streamingFormat=FLASH&referralObject=4c75910d-e05e-49a1-9521-bf7f3326c82c&referralPlaylistId=1292d14d0e3afdcf0b31500afefb92724c08f046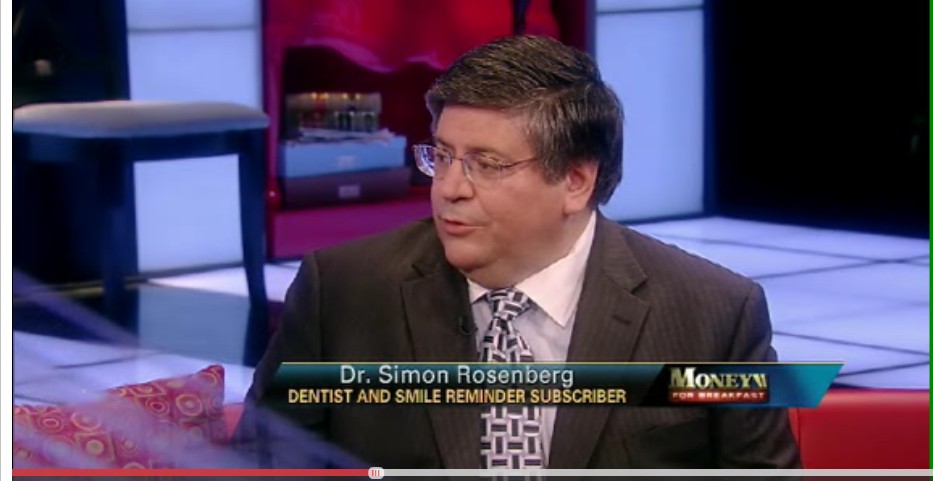 Dr Rosenberg has also posted three short videos on the Video Websites:
1) The first is A Before and After Slide Show with Sound Track From Sky Radio for American Airlines
http://www.metacafe.com/fplayer/723679/natural_one_visit_porcelain_crowns_and_veneers_with_cerec_3d_cad.swf
Two are humorous:
2) The second is A Grandma that Sky Dived and Lost her Teeth when the photographer said: "Smile Wide for the Camera".
http://www.metacafe.com/fplayer/723653/sky_diving_grandma_loses_her_denture_outrageous_hilarious.swf
3) The third is a ClassicSkit with Tim Conway (Dentist) and Harvey Corman (Patient) from 1973 that highlights why Dr Rosenberg has brought the Biolase Waterlase MD dental laser into the office to eliminate the need for anesthesia with many dental procedures, including many fillings.
http://www.metacafe.com/fplayer/891811/biolase_waterlase_md_new_york_city_laser_dentistry_no_drill_no_s.swf
Check them out and "Have a great day!"
Simon W. Rosenberg DMD